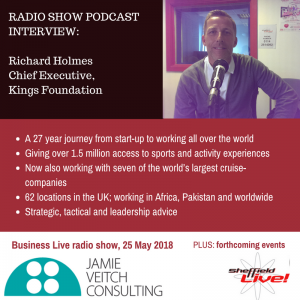 "I'm passionate about the value of sport and physical activity and for 25 years I've worked to get children active," says Richard Holmes.
Holmes is CEO of the not-for-profit Kings Foundation, which since inception in 1991 has worked with over 1.5 million children.
It engages children to participate, "we are about developing a love for sport and activity rather than putting them straight into a competitive environment."
What started nearly 3 decades ago with just one cupboard of sports equipment is now a global, values-driven organisation, earning its income and genuinely transforming lives.
Richard joined me in the Sheffield Live radio studio for an in-depth interview and you can catch the podcast below.
In the 40-minute, comprehensive interview Richard covers:
How 1.5 million children have participated in activities and 40,000 young people have gone into employment through the organisation.
Kings Camps now runs sport and activity camps, in 62 locations throughout the UK.
Kings Active is the Foundation's Business to Business model. It helps organisations, including cruise companies and other well-known names in the holiday sector, to deliver outstanding children's activity programmes. "We've changed the culture in the cruise industry."
Working in Botswana and sub-Saharan Africa, Pakistan and other countries to help children in disadvantaged communities find confidence through sport.
How the charity – founded in 1991 – started by managing sports camps in three cities, Sheffield, Bradford and Leeds and contributed income to support projects such as a soup wagon programme for young homeless people in Sheffield (which still exists today).
Richard's personal journey, deciding to take the plunge from a safe career to becoming the leader of Kings Foundation "it was stick or twist, not a smart choice at the time, but there was just something there that was incredibly attractive."
Securing commercial partnerships.
Avoiding complacency and ensuring the organisation continually innovates.
How embracing compliance issues can be a great differentiator.
Advice for other leaders and CEOs.
The book Richard wishes he'd read earlier in his career.
Richard's own love for sport and the freedom of being on his bike in the Peak District "I'm a bit of a cycling evangelist."
Podcast:
Timings:
0 – 9:21 introduction and updates including research into business operating costs from the Federation of Small Businesses (FSB) especially fuel and utility costs; date announced for Social Saturday 2018 (Saturday 13th October); forthcoming events from the Business and IP Centre Sheffield; and some comments about GDPR which comes into force today,
9:21 – 49:28 Richard Holmes
49:28 – end (50:35) wrapping up and how to get in touch.
What next?
Check out Kings Foundation and Kings Camps.
More about my Business Live radio show.
If you'd like details of new podcasts and enjoy reading useful, practical advice – delivered in an accessible, entertaining format, then you're welcome to join my free newsletter email list (if you're not already signed up). Just pop your details in below and look out for a confirmation email to click to confirm you want to join the list.