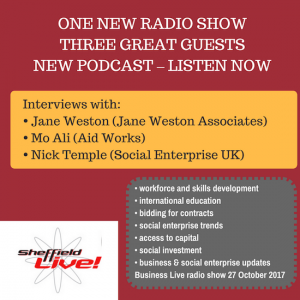 One action-packed new radio show, three great guests. Last Friday I was joined in the Sheffield Live studio by Jane Weston and Mo Ali – and for a live telephone interview by Nick Temple.
Jane is a workforce development specialist. What's that? Find out by listening to the podcast. Jane's work involves helping clients take a proactive rather than reactive approach to workforce and staff development and tackling skills gaps.
Mo runs Aid Works, a social enterprise which provides project support and learning services to international organisations, and helps local and international aid workers to reach their potential through training and e-learning.
He's been on the show before; Aid Works has recently delivered an interesting education project for much loved charity, the RNLI. Aid Works won that piece of work by responding to an invitation to tender (the organisation liked Aid Works' transferable experience, according to Mo) and he also spoke with me about the process of bidding for contracts and responding to tenders (and gave some great tips and advice). And I put Mo on the spot about how
Nick is the deputy chief executive of Social Enterprise UK and was recently appointed as the new CEO of Social Investment Business, a role he takes up in January 2018. He talked about SEUK's recent State of Social Enterprise Report and the trends it identifies; (growth in turnover, better diversity than mainstream businesses, more innovation); the achievements to date and the potential from the Social Value Act; access to social investment; social enterprises bidding for contracts and
Podcast:
Timings:
0 – 4:55 introduction and updates – how a short walk nearly turned to a long flight due to Storm Brian; Sheffield one of top 10 places for job creation, according to new data;
4:55 Jane Weston (of Jane Weston Associates) – how she encourages businesses to plan for their workforce; formal and informal routes to skills development;
14:08 Mo Ali of Aid Works – about Aid Works; a recent eduction project with RNLI and some advice about bidding for contracts
22:45 back to Jane Weston – how Jane launched her business
27:21 – 40:31 Nick Temple
40:31 – 50:50 wrapping up with Jane and Mo, more about skills development and how to contact Mo and Jane; and a discussion about what makes an effective NGO.
What next?
More about my Business Live radio show. Meanwhile if you like reading useful, practical advice – that's also entertaining, then you're welcome to join my free newsletter email list (if you're not already signed up). Just pop your details in below.