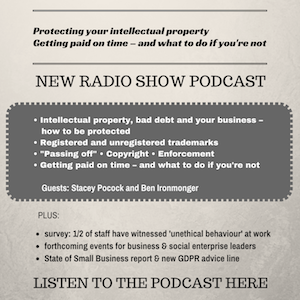 Legal eagles Ben Ironmonger and Stacey Pocock joined me in Sheffield Live's radio studio yesterday to tell you how to protect your intellectual property – and how to protect your business against bad debts.
Have a listen to the podcast below for plenty of practical, actionable advice from Stacey and Ben, who also dispel some commonly held myths and misunderstandings.
"Intellectual property applies to every business," says Ben. We covered trade names, logos, "passing off;" trademark registration and law, brand clearance, copy on websites, enforcement actions, why you shouldn't just "bowl up on th4 day" at the Small Claims Court and more.
Stacey discussed procedures to reduce the risk of bad debt arising in the first place and what to do (and how to prepare) if you need to take enforcement action, whether through the Small Claims Court, or the Money Claims Online system; and how to give yourself the best chance of any action being successful (and avoid emotional burnout from chasing people).
The show also features a survey into 'unethical' behaviour at work; a preview of the forthcoming MADE Festival; a new GDPR advice line; and more.
Here's the podcast:
Timings:
0 – 7:48 introduction and updates, including the State of Small Business report from Sage and Nesta; survey finds 1/2 of staff have witnessed "unethical" behaviour at work; new dedicated GDPR advice line for small organisations launched by the ICO (Information Commissioner's Office);
7:48 how to protect your intellectual property – from trademarks to branding, copyright to enforcement action with Ben Ironmonger;
26:21 Stacey Pocock on how to protect your business from bad debt, and how to collect money you're owed;
37:10 details of a free forthcoming masterclass, Laying the legal foundations for your business, on 8 November, at which Ben and other Ironmonger Curtis colleagues are speaking;
42:48 – 49:19 further updates; Bank of England interest rate rise; more research into personal debt; MADE Festival preview (and aftershow party).
What next?
More about my Business Live radio show. Meanwhile if you like reading useful, practical advice – that's also entertaining, then you're welcome to join my free newsletter email list (if you're not already signed up). Just pop your details in below.