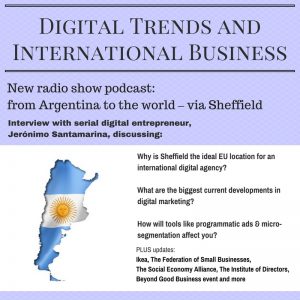 Why is Sheffield the ideal European location for an international digital marketing agency?
What are the biggest current developments in digital marketing, and how will tools like programmatic ads and micro-segmentation affect you?
And what's the difference between digital propaganda and digital advertising?
Serial digital entrepreneur, Jerónimo Santamarina, answered all of those questions and more in my latest Business Live radio show on Sheffield Live on Friday. You can hear the podcast below.
Argentina-born Jerónimo is managing partner for the EU at EYDOS Digital. He's founded several companies, and launched EYDOS seven years ago to provide digital marketing to multinationals, startups, NGOs and the public sector.
Have a listen to the podcast for extensive advice about how to work with customers in Latin America; digital marketing trends; why Sheffield is a great location as the European base for a global business; and more.
Plus there are updates about Ikea, The FSB, Meadowhall, Enrichment for the Elderly, the Social Economy Alliance and The Institute of Directors – and forthcoming events including Beyond Good Business.
Jerónimo discusses skills, collaboration, messages, and what a Google Partner Agency does.
He's also got advice on understanding how, when, where and why consumers use technology and how to solve their problems; working with customers in South America; and measuring the return on investment of your digital strategy.
Here's the podcast:

Timings:
0 – 12:09 introduction and updates, including:
Ikea planning to create up to 480 new jobs in Sheffield as part of UK expansion;
FSB running Business in the Spotlight event on 24 May;
staff from Meadowhall and members from Enrichment for the Elderly creating and recording soundbites about their lives in Sheffield;
The Social Economy Alliance's new Manifesto for an inclusive economy. Ideas include "Realising the potential of business – with rewarding good business behaviour through tax incentives, tackling tax avoidance, improving tax transparency and socially responsible supply chains."
Call from the IOD – The Institute of Directors – for all political parties to back the UK's startup culture ahead of the election by committing to a series of measures including access to the European Investment Fund;
Confidence key to success of Sheffield City Region, says FSB;
Forthcoming events, including How to Protect Your Business Ideas at Home and Abroad and Beyond Good Business;
12:09 – end Jerónimo Santamarina
More about my Business Live radio show (which you can hear every Friday morning from 9-10am on Sheffield Live radio). Enjoyed this? Share it using the buttons below.