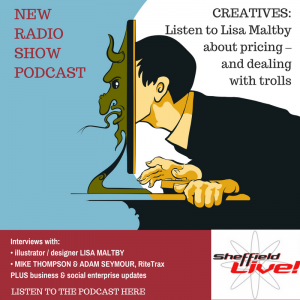 Another Friday, another Business Live radio show, broadcast this morning on Sheffield Live FM radio and online.
And today's show features an invaluable perspective if you're running a business in the creative industries.
Lisa Maltby is an illustrator and designer with an impressive portfolio and a diverse client base.
On Tuesday I visited Lisa at Sum Studios in Sheffield; the 25 minute interview covers her leap from employment to her own self-employment a couple of years ago; winning clients; and the difficult-for-many topic of pricing your work.
The interview came about after I read one of Lisa's blogs, a few weeks ago, in which she gave advice and commentary about how to set prices. That post encouraged a pretty personal public critique, out of the blue, from a stranger who seemed keener to attack Lisa than address the points she made.
How do you set your prices, as a designer? And what should you do if you face public criticism? Listen to the interview with Lisa in the podcast below – and do check out her website, she's a talented illustrator and has published plenty of insights too.
Today's show also featured studio guests Mike Thompson and Adam Seymour of RiteTrax, a "platform for underground culture through creative social enterprise."
It was great to welcome Mike and Adam back to the Sheffield Live studio to give an update on what's been happening since their social enterprise's first anniversary last October.
The start of this latest podcast features updates about business and social enterprise. Have a listen:
Timings:
0 – 9:18 introductions and updates, including launch of new Good Finance website which aims to help charities & social enterprises navigate the world of social investment; acquisition of Sheffield-based Dialogue Group; forthcoming events from the Business and IP Centre Sheffield; Sheffield College shortlisted in regional apprenticeship awards; FSB calls on all political parties to support self-employed as it publishes small business manifesto; Mental Health Awareness Week;
9:18 – 38:29 Lisa Maltby
38:29 – 55:07 Mike and Adam from RiteTrax
[Troll image © AlexanderPavlov/Shutterstock]
More about my Business Live radio show (which you can hear every Friday morning from 9-10am on Sheffield Live radio). Enjoyed this? Share it using the buttons below.