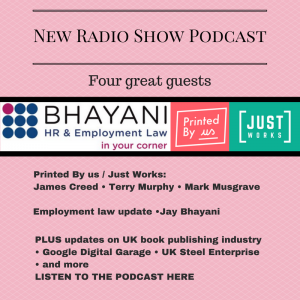 Your weekly Business Live radio show podcast is ready to download.
The latest show – broadcast yesterday on Sheffield Live FM radio and online – featured live studio interviews with an HR law expert and a Sheffield social enterprise.
Jay Bhayani, in her regular slot on the programme, gave an update about developments in employment law. Running a business, social enterprise or charity? You need to be aware of this.
Jay covered increases in the National Living Wage and the National Minimum Wage; changes to statutory maternity, paternity and adoption pay; workplace dress codes; the "gig economy" and the status and rights of freelancers; the law requiring large businesses to publish gender pay gap data now in force; data protection and whether employers should be allowed to access and store data from fitness trackers.
Jay also mentioned The Charity Hub and the Social Enterprise Exchange, and a forthcoming free employment law event. Contact her here.
Also on this programme: James Creed, Terry Murphy and Mark Musgrave of social enterprise Printed By us came into the Sheffield Live radio studio. Printed By us runs hand screen printing workshops for people who have experienced homelessness and other complex issues; they collaborate with local artists to create and screen print artwork; then sell the prints and run further workshops.
A new exhibition of Printed By us works opens today at Union St in central Sheffield. Mark, James and Terry explained how the social enterprise operates; who it supports and how it does so; their plans for expansion; its relationship with a Cathedral Archer Project initiative, Just Works; and achieving sustainability for the social enterprise. And Mark gave an update about his business, The Level Collective, too.
Podcast:
Timings:
0 – 09:26 introductions and updates including

election campaign – what are your views on the snap general election?
funding boost for Rotherham retailer, Vinyl Soundbar, thanks to UK Steel Enterprise's Kickstart Fund (and how to apply to the fund yourself;
The Floow win Red Herring Award;
figures show boost for UK publishing industry – 8% rise in printed book sales;
The Google Digital Garage opens today in Sheffield;

9:26 – 27:26 Jay Bhayani;
27:26 – 51:40 James Creed, Terry Murphy and Mark Musgrave; wrapping up.
More about my Business Live radio show (which you can hear every Friday morning from 9-10am on Sheffield Live radio). Enjoyed this? Share it using the buttons below.