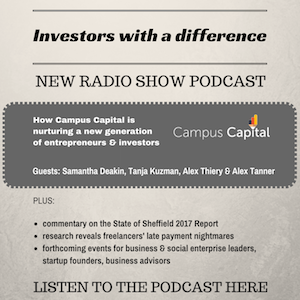 There's a problem in venture capital. In the UK, VC-ready startups gravitate to where the money is: London (and to some extent Cambridge and Oxford).
That's led to a "tech funding gap in the North of England" – risking a brain drain of businesses seeking investment away from northern cities.
Plus, VC decision makers invest in businesses run by people who are "just like them." Research shows that this leads to a bias in the companies funded by VCs.
So it was interesting to welcome Samantha Deakin, co-founder of Campus Capital, to the radio studio today. Sam was accompanied by Tanja Kuzman, Alex Thiery and Alex Tanner, student VCs in this new and unique-in-the-UK VC firm with a difference which will work in partnership with a number of the UK's leading universities to deliver on-campus venture capital funds.
How will Campus Capital operate and invest? Listen to the podcast to find out.
The show also features forthcoming events; my comments about the new State of Sheffield report; and more. Here's the podcast (timings are below):
Timings:
0 – 12:22 introduction and updates – my comments about the State of Sheffield 2017 report, published this week; research into how late payments impact freelancers; some forthcoming events
12:22 – 52:20 Samantha Deakin, Alex Thiery, Tanja Kuzman and Alex Tanner
52:20 – end wrapping up
Mentioned in the show: The Founders' Network Summit on 2 March; The State of Sheffield 2017 Report; The Northern Powerhouse Investment Fund regional briefing event
More about the Business Live radio show. Enjoyed the podcast? Share it with the buttons, or add a comment.