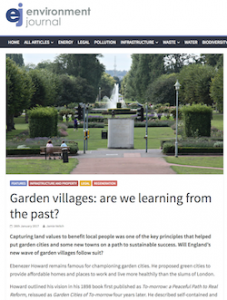 Garden Villages, land value capture and sustainability: purity of principle or a fake pill?
'Eezer Goode, Eezer Goode / He's Ebeneezer Goode.'  So went the chorus of The Shaman's 1992 hit, Ebeneezer Goode.
Drop an e and you get a different Ebeneezer, from a century earlier. Ebenezer Howard remains famous for his good idea: championing garden cities. He proposed green cities to provide affordable homes and places to work and live more healthily than the slums of London.
With Ebenezer Howard's original vision in mind, I've just written two articles commissioned by national publication, Environment Journal.
The first covers the idea of land value capture, one of the key garden city principles.
And the second examines the principle that garden villages should involve "development that enhances the natural environment, providing a comprehensive green infrastructure network and net biodiversity gains, and that uses zero-carbon and energy-positive technology to ensure climate resilience."
Read them through the links above – and let me know what you think.
Want to commission me to write for you? Get in touch.