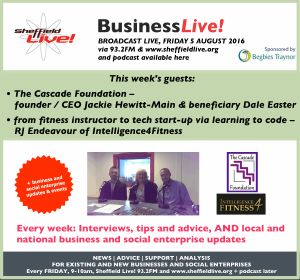 Over 50% of prisoners and unemployed people in the community have dyslexia or similar learning difficulties; more than 70% have low levels of literacy.
And for many prisoners, like one of my guests on this week's Business Live radio show, Dale Easter,  imprisonment is like a 'revolving door' – Dale spent 23 years of his adult life going into and out of prison more than 40 times.
This experience is common in those unable to read or write, those with learning difficulties and the homeless, according to Jackie Hewitt-Main, founder and chief executive of The Cascade Foundation who joined Dale in the radio studio.
Jackie explained how the charity, launched in 2013, has developed a multi-sensory approach to teach and support people with dyslexia, head-injury or other learning difficulties. It runs projects both in prisons and in the community, for offenders, ex-offenders and community learners.
Cascade's learners make swift progress using these methods, which also reduce re-offending: Dale described how Cascade had enabled him to completely transform his own life and start "putting something back" into society.
Today's programme also featured studio guest RJ Endeavour of Intelligence4Fitness. RJ is a fitness instructor and self-taught coder and programmer, developing a new app. He shared his journey so far, from Prince's Trust support to development through to acceptance by a tech business accelerator programme.
Listen to the podcast of the show here:
Timings in this podcast (music played in live radio broadcast removed from podcast):
0 – 6:15 introductions and updates, including The Bank of England making first cut in interest rates since March 2009 to a new, historic low, and announce a new round of quantitative easing; 100 jobs now look to be saved from former BIS office in Sheffield with redeployment to Department of Education office; Sheffield on shortlist for Great Exhibition of the North; Community Business Fund open for applications;
6:15 – 27:19 Jackie Hewitt-Main and Dale Easter talking about The Cascade Foundation
27:19 – 43:18 RJ Endeavour
43:18 – end (50:00) more from Jackie Hewitt-Main and Dale Easter
More about the Business Live radio programme.