An apprentice who at 19 years old has already saved Rolls-Royce £10m; the author of a new report describing Sheffield as the beer capital of the world and a member of the team behind a rocket-powered car all feature in this week's Business Live radio show, broadcast yesterday morning on Sheffield Live FM radio and available as a podcast here.
The Bloodhound Supersonic car was the headline attraction at this year's Get up to Speed with Engineering and Manufacturing (GUTS) event, held at MAGNA Science Adventure Centre on Wednesday this week.
Bloodhound SSC is a jet and rocket powered car which will challenge for the world land speed record and is set to ultimately break the 1000mph barrier. Many of the parts for the car are designed and manufactured in the Sheffield City Region.
I went along to the GUTS event where I interviewed Nick Naylor of the Bloodhound education and outreach team, and Jess Herbert, an apprentice at Rolls-Royce (supplier of jet engines for Bloodhound) who gave a superb presentation. Organisers Jackie Freeborn and John Barber of the Work-wise Foundation also spoke with me, as did attendees and exhibitors including Anne Wilson MBE of Numill engineering, and John Silker, CEO of MAGNA which hosted GUTS. You can listen to the interviews below.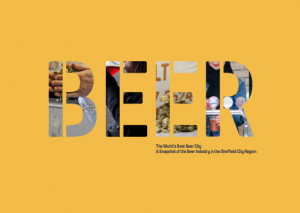 Sheffield could justifiably be described as the beer capital of the world, according to a new report launched this week. The Sheffield Beer report examines the thriving brewing industry in the city: there are 57 breweries in the Sheffield City Region. But the report (available here) says the city is missing an opportunity to capitalise on this excellence, and through collaboration, promotion and education could achieve the worldwide recognition it deserves. I caught up with report author Pete Brown for an interview in the Sheffield Tap on Thursday.
Podcast of the programme (timings below):
Timings:
0 – 7:51 introductions and updates, including details of a new Women in Enterprise report from the Federation of Small Businesses; a new initiative, the Buy Social Corporate Challenge, which launched this week to encourage corporates to buy from social enterprises; Responsible Business Week; some forthcoming events
7:51 – 16:29 Pete Brown, author of the Sheffield Beer Report
16:29 interviews from Get Up to Speed, including:
17:28 Jackie Freeborn, Work-wise
27:14 John Silker, MAGNA
32:55 Chris Harrop, Pryor
34:24 Nick Naylor, Bloodhound's education team
39:07 Jess Herbert, apprentice at Rolls-Royce
42:31 James Allen, Rolls-Royce
44:04 Anne Wilson MBE, Numill Engineering
47:06 Jim Lawson, the Wosskow Brown Foundation
49:47 Lucy Machin and Lauren Browning, The University of Sheffield
53:38 John Barber, Work-wise
as ever, for the podcast I've removed the music track played at the end of the programme on the radio (Prince's When Doves Cry)
More about the Business Live radio show.