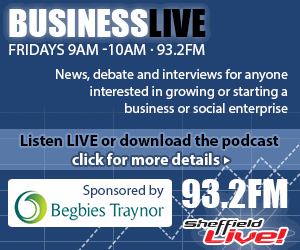 My Business Live radio programme on Sheffield Live this week featured studio guest David Walsh and a new interview with Kate Loach. The podcast is available below with details and timings.
David is the Business Editor of the Sheffield Star newspaper; his responsibilities also include The Business monthly magazine; Star Business Monthly; and he's involved in the Sheffield Business Awards.
Kate is senior recruiter at specialist tech recruitment consultancy, Affecto.
I asked David about the biggest issues affecting Sheffield business, the campaign to locate Sheffield's HS2 station in the city, business confidence in 2016 and how businesses and social enterprises seeking media coverage should catch his attention.
He gave some great insights into the operation of a multimedia (print, digital, video, audio) news operation and some useful tips for listeners, and advice too for people considering a career in journalism.
Kate discussed why recruiter Affecto are sponsoring Django Girls' volunteer-led workshop in Sheffield this February. Django Girls is a non-profit organisation that empowers and helps women through free, one-day programming workshops providing the opportunity to gain the skills in creating an application and understanding tech. Kate also told me what skills are particularly in demand in the tech industry in 2016.
You can listen to the podcast of the programme here (timings below; as ever the music tracks played on the radio are removed from the podcast):
Timings:
0 – 24:05 David Walsh on Sheffield business, the business of journalism and advice for listeners.
24:05 – 34:19 Kate Loach of recruiter Affecto: women in tech and trends for 2016.
34:19 – 36:14 repeat of a short interview with award-winning tech entrepreneur Anthony Odogwu, founder of Future Space Technologies.
36:19 – end repeat of interview with popstar turned farmer and entrepreneur, JB Gill, and wrapping up.