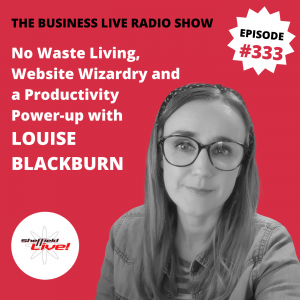 Roll up, roll up it's a two for one special in today's show. Guest Louise Blackburn discusses her brace of businesses: No Waste Living and Amber Couch.
Amber Couch is Louise's website design and development business, which she's been running for 15 years. Sites have certainly changed a lot in that time. Yet there are three common issues which hold many websites back, so they don't generate the results they should. Louise explains what these are and how to fix them.
No Waste Living does what it says on the proverbial tin. Born after several years of lifestyle changes Louise made, it's an online shop selling refills for household necessities alongside other sustainable products. It's also a resource crammed with useful information. And putting it all online was precipitated by lockdown, as Louise explains.
There are tips a-plenty in this episode. Louise is a systems and processes acolyte and has plenty of powerful productivity tips, alongside her website advice. And there's more…she also explains how you can realistically move to using less plastic.
It was a pleasure talking with Louise and I hope you'll enjoy the interview and find her tips and advice helpful.
Timings and links:
Introduction: Louise Blackburn runs Amber Couch
5:10 three amazingly common website issues and how to fix them
10:00 why a website theme is like a new-build house and a custom-built site is like buying land and designing and building your own home
13:00 Louise's background, how Amber Couch launched, and why Louise set up the business
16:03 Powerful productivity, systems and micro-systems advice
23:09 What is No Waste Living?
24:40 Was there a tipping point for Louise – why did she set up the shop?
26:30 How does it work in terms of the two types of product it sells? And more about issues with plastic and recycling
32:17 How customer numbers and turnover have developed
35:32 Louise's tips to support the circular economy, reduce, reuse and recycle
38:20 Louise reveals her biggest "why" today for Amber Coach, her website business
40:25 No Waste Living: small steps can be positive in your life and have a big impact
42:30 Wrapping up and a couple of other things – Sheffield's Make Yourself at Home initiative, all about supporting local businesses and communities; the Festival of Debate; The Business and IP Centre Sheffield and Start-Up Day Reloaded