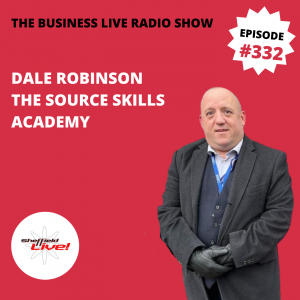 Enquiries about apprenticeships are soaring for The Source Skills Academy, a leading Sheffield provider of training, according to Dale Robinson.
And it's no wonder: as the UK moves out of lockdown, apprenticeships can help businesses future-proof themselves while giving young people a head-start.
As Director of Business Development for The Source, a charity operating since 2003, Dale works with employers across the Sheffield City Region and his enthusiasm for the life-changing power of apprenticeships is evident throughout this interview.
Dale's own career journey began with an apprenticeship in a bank, and he's determined for businesses and young people alike to benefit from meaningful, fulfilling apprenticeships.
We also cover:
How The Source adapted throughout the pandemic pandemic to serve the region's businesses and local communities, getting people into training and qualifications that boost their confidence and grow their prospects
Reopening its conference facilities and creating a new community learning zone
Its traineeships which support people whose qualifications or confidence have really suffered and can lead into an apprenticeship or job
How some of Sheffield's most innovative businesses are offering placements through the Government-funded Kickstart scheme
The Source's communication and marketing methods to engage with employers and young people
Dale's own inspirations in business
Also in this episode: new funding opportunities and your chance to feature in a future show.
Timings:
0 – 2:19 introduction
2:19 Dale Robinson of The Source Skills Academy
38:55 Do you run a shop, pub, hairdresser or other business able to re-open from the 12th of April? Would you like to be on the show? How to get in touch and tell your story
40:41 Funding opportunities for businesses and social enterprises from UnLtd, the foundation for social entrepreneurs and from the Steel Charitable Trust. Plus Skills Bank extension and wrapping up