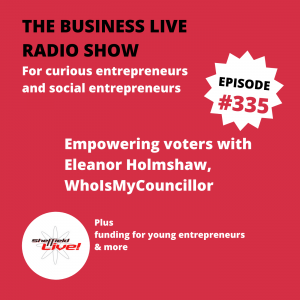 Accountability, transparency and informed decision making are at the heart of a new website launched by today's guest Eleanor Holmshaw.
Whoismycouncillor.co.uk allows users to find the candidates standing in the council elections in their part of Sheffield. They can see candidates' answers to a set of specific questions "important to the city" and learn more about who they could vote for.
Eleanor covers why and how she and a crack team launched the site to empower voters and boost engagement with our democratic system.
Self-confessed "spreadsheet obsessive" Eleanor also gives me the lowdown on lessons learned from launching the site in record time.
Also in today's show:
business accelerator TwinklHive is offering £250,000 to young entrepreneurs looking to establish their own digital business. Details at 33:59 in the podcast and here.
lovely news from previous guest, Kresse Wesling – Elvis and Kresse, which rescues  London's decommissioned fire-hose and creates beautiful goods, has just made its largest ever donation to the Fire Fighters Charity (details at 31:10 and here). Check out my 2019 interview with Kresse .
Registration open for The Children's Media Conference – details at 36:05 in the podcast and here.