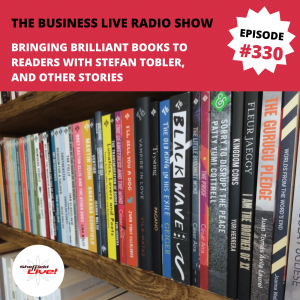 Here's a first in 330 episodes: a birdsong soundtrack. Lovely backdrop for a chat about books and publishing with Stefan Tobler of And Other Stories.
Known worldwide for publishing some of the best contemporary fiction and non-fiction, And Other Stories aims to help people discover adventurous and inspiring writing – and make the publishing industry look less like "posh freemasonry."
It connects brilliant authors, both emerging talent and established voices, with readers through a book subscription model, and is now one of the major publishers of literary fiction in translation. Some of the books it publishes have made me laugh out loud, or reel after a gut-punch, or shiver.  Invigorating writing which gets under your skin.
Stefan discusses:
Favourite books (what an unfair question from me)
Why And Other Stories made Sheffield its home
Inclusivity and representation in the publishing industry
Developments in publishing such as Bookshop.org through which you can support local book stores
Why print books are thriving
The "ones that got away" – books Stefan wishes he had published
How audiobooks and self-publishing fit into the publishing ecosystem
Embedding values into the business model – And Other Stories is a social enterprise
And, of course, much more.
I was engrossed so I hope you'll enjoy this interview with Stefan. Key links mentioned:
Also on the show, a quick round-up of some of the social enterprise-related announcements from the Budget this week.
Timings:
0 – 41:40 Stefan Tobler
41:40 Budget round-up: Social Investment Tax Relief and the Community Ownership Fund