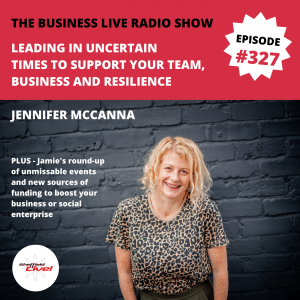 How do you support your team and manage them effectively at a time of such uncertainty and change? How do you build their and your resilience? And what can business leaders and social entrepreneurs learn from neuroscience about dealing with stress?
Jennifer McCanna, a leadership coach, has plenty of practical ideas and solutions you can implement now – even while working remotely – so you can look after your colleagues, your business or organisation and yourself.
Jen's worked with leaders in organisations like the UN, the UK's Department for Education, businesses and leading charities, helping them to build effective relationships based on trust, so her evidence-based strategies and ideas are well-proven.
Also on the show: lots of exciting events; lots of sources of funding for businesses and social enterprises; a consultation about extending a grey-to-green scheme in Sheffield and more.
Timings:
0 – 2:31 Introduction
2:31 Jen McCanna: Who Jen works with and what are people feeling at work, right now?
4:15 Why the brain doesn't deal well with uncertainty – and the impact of biological responses to stress on our ability to be effective at work.
7:20 How to address stress.
9:38 More ideas, applicable to remote working.
14:45 How to apply Stephen Covey's "Circles of Influence" model (control, influence and concern).
19:00 How productivity and effectiveness relate to these circles – and the importance of self-awareness.
24:00 Building trusting relationships and the ability to have difficult conversations – with honesty and without defensiveness. How?
26:45 Giving feedback with directness and care – Jen recommends Kim Scott's book, Radical Candor, and TED talk.
27:55 Details of Jen's forthcoming and free five-day programme, "5 Day Work Relationships Fast Track." What it involves and how it will work. More about this here.
35:15 Plans to extend a Sheffield "Grey to Green" scheme to create a green corridor in the city. The city council wants your input – here's the consultation.
37:19 Details of an upcoming webinar, Can Business Be a Force for Good, on 11 February. Free, organised by Alpkit whose CEO was on the show last year. Register here.
38:45 The Business & IP Centre webinar, How to Be More Pirate. Free, register here.
40:01 New workshops (and grants) from the Social Enterprise Exchange for startup and early-stage social enterprises. Details here.
41:16 Innovate UK Smart Grants to deliver game-changing and commercially viable R&D innovation that can significantly impact the UK economy. Details.
43:19 Big Society Capital's call for Ideas for Impact. Details.
44:09 Sheffield City Council business support.
44:31 The Deutsche Bank Awards for Creative Entrepreneurs. Details.
45:18 Wrapping up