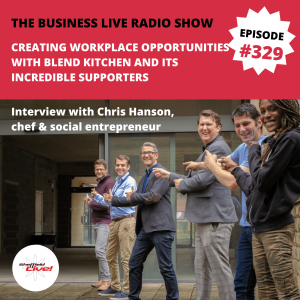 "There are people who've been ostracised by mainstream society and not given the opportunities we've been able to provide for them in the workplace." What a year it's been for chef and social entrepreneur Chris Hanson.
12 months ago the lease for Blend Kitchen's café in Sheffield City Centre was coming to an end. After two "amazing years" serving great food and giving training and employment opportunities to people, Blend needed help to move to a new home.
And there was more at risk than the tasty, wonderful food it serves. Blend gives training, education and employment opportunities to people including adults with learning disabilities, people diagnosed with mental health conditions, parents returning to work, people who have experienced homelessness or substance abuse, and more. Lots of traditional employers can't support people in the way Blend can, Chris explains.
What a lovely story this is. Despite the challenges of the past year, the generosity of businesses, supporters, funders and the public means Blend has been able to take on and fit out amazing new premises.
In this episode Chris describes:
his own journey to chef and social entrepreneur
who Blend works with
businesses including educational publisher Twinkl have been "absolutely incredible" helping to make this move a reality
support from UnLtd, the foundation for social entrepreneurs
a new horticultural project with the University
the amazing new facilities which will be available at Blend
Sheffield music legend Richard Hawley has become Blend Kitchen's patron
advice to other social entrepreneurs about securing business partnerships and funding
Also in this episode: a welcome return to the show for Jay Bhayani of Bhanyani HR and Employment Law. Employers and employees have numerous questions as we embark on a "roadmap" out of lockdown and restrictions ease, such as:
can an employer insist an employee takes the vaccine if they don't want to?
what should you include in a home working policy?
Jay talks through these issues, and describes her firm's expansion to Leicester.
Timings:
0 – 22:10 Interview with Chris Hanson, Blend Kitchen.
22:10 Jay Bhayani, Bhayani HR and Employment Law
36:59 What's likely to be announced in the Spring Budget next week? A few predictions about business rates relief, extensions to the furlough scheme and corporation tax changes. Plus The Resolution Foundation and ExcludedUK are calling for the Chancellor to stop ignoring the two million plus people who've "fallen through the chasms in support." What do you think? Get in touch.
43:16 Wrapping up and an obituary of a life well lived.