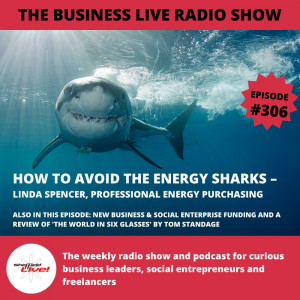 What's complicated and costly for many companies? The energy market. But in today's show, practical advice on how to navigate your energy costs from Linda Spencer of Professional Energy Purchasing Ltd.
Energy companies seem to pass wholesale price rises on to customers immediately. Yet many businesses feel there's a big delay before their supplier passes on any drops in the wholesale price. Linda explains why. Her business helps customers reduce their overall energy usage too. She tells me how.
Alongside these and other energy saving and purchasing tips Linda offers a healthy dose of Yorkshire inspiration. She set up her business in 2013. Seven years later she has several members of staff and the business' growth has been entirely self-funded. Scroll down for the podcast.
Also on the show:
Book review: A History of the World in Six Glasses by Tom Standage
Trials of electric vans for Sheffield businesses
The Social Enterprise Support Fund
The Well Rotherham Y Accelerator Social Connectivity Challenge
Worrying GDP and employment data from the ONS
The Job Retention Bonus scheme and the Kickstart scheme
The Eat Out to Help Out initiative and the VAT cut
Here's the podcast (full timings below). Click the large arrow to play, or in the bottom right corner to download it. You can also access it in Apple Podcasts, Stitcher, Google Podcasts, numerous other podcast apps or Spotify.
Timings: