A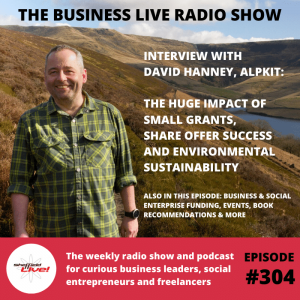 n interview with David Hanney, CEO of outdoor equipment manufacturer and retailer Alpkit, plus business and social enterprise funding opportunities and two book recommendations.
David covers Alpkit's Foundation, funded by the business and making small grants with huge impacts; Alpkit's astonishing share offer success this week; the firm's commitment to sustainability and its journey to accreditation as a B Corp. Scroll down for the podcast.
Alpkit launched in 2004 and designs, sources and sells outdoor equipment, clothing and bikes. Its Alpkit Foundation (a charity with nine trustees, funded by 1% of Alpkit sales) donates small grants to all sorts of projects across four themes: diversity and inclusion, participation, environment and health and wellbeing. "A small amount of money can build a lifelong love of the outdoors," says David.
David describes the phenomenal impact which small grants can make and how to apply to the Foundation. And he has a wonderful story of a key moment which led to formally launching the foundation.
As a business Alpkit is going from strength to strength with record sales over the last 12 weeks, where like-for-like sales were up 50 per cent to £2.3m. What's driven the growth? David explains.
And this week Alpkit launched a share offer on Crowdcube through which customers could become shareholders in Alpkit from just £10. This reached its target of £750,000 in just eight minutes on Monday and went on to hit its £1.5m cap 44 minutes later.
It brought in nearly 1400 new share owners: customers and members of staff. "We've been completely overwhelmed by the support," says David, "at one point there were five people investing per second…it was like watching Glastonbury tickets sell out." He also has advice for other businesses considering making this kind of public share offer.
Alpkit itself is on the way to accreditation as a B Corporation (a business meeting the highest standards of verified social and environmental performance, public transparency, and legal accountability to balance profit and purpose).
We cover how businesses must take responsibility for driving positive changes, Alpkit's environmental sustainability reporting, and David's ambition for Alpkit to be a world-class B Corp by 2023. There's another lovely story featuring a Blue Peter annual too.
Also in this week's programme: three business funding opportunities; events; an important call for social enterprises; two book recommendations and more.
Here's the podcast (full timings below). Click the large arrow to play, or hover over the media player and click on the icon on the bottom right corner to download it.
You can also access it in Apple Podcasts, Stitcher, Google Podcasts, numerous other podcast apps or Spotify.
Timings and links:
0 – 1:46 Introduction.
1:46 – 31:07 David Hanney, Alpkit and the Alpkit Foundation.
31:07 Reopening Hospitality in Sheffield from 4 July- A Guide for Businesses.
32:17 Business Sheffield's Virtual Business Workshop Programme for July.
33:27 Run a social enterprise? The UK Prime Minister wants to hear from you and seeks proposals covering social investment, business, and new forms of finance for communities. Details in the show, and in this Pioneers Post article.
35:47 Three new funding opportunities for businesses (The Small Business Research Initiative from the Sustainable Innovation Fund; Creative England's New Ideas Fund; and Innovation funding for R&D projects led by UK businesses for new projects focusing on sustainable economic recovery from COVID-19.
38:28 The flexible furlough scheme started this week. Check out Jay Bhayani's advice.
40:01 Two book recommendations: Women of Steel by Michelle Rawlins and Figuring by Maria Popova.