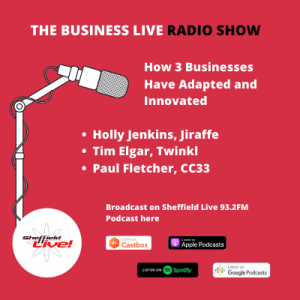 It's a triple-filled radio show sandwich today featuring three different businesses – all doing great things.
Holly Jenkins of Jiraffe is first up. Jiraffe provides postural care equipment and support to children and adults with special needs.
"The need of the children that we support is not going to go away because of the coronavirus," she says – so Jiraffe has launched two special initiatives to ensure some of the most vulnerable children and adults in society still have access to vital seating, standing, sleeping, and mobility support equipment.
Lots too in the chat with Holly about building a positive company culture and effective communication (Holly gives specific points about how Jiraffe does this).
Tim Elgar, Head of Culture and Leadership at Twinkl is next up. Twinkl is well known in Sheffield and worldwide. It offers hundreds of thousands of learning resources to people who teach. Now the firm has made these resources free to access – and it's also partnered with the S6 foodbank to distribute 500 copies of a beautiful, printed book for children. Tim tells us more.
Finally Paul Fletcher of call centre business CC33. His firm works for businesses in a broad range of sectors including utilities, retail, insurance, fleets and many more. It employs around 350 people across three sites, taking in-bound and making outbound calls.
CC33 moved rapidly to remote working, setting its people up to work from home. A gigantic logistical task.
Paul tells me how CC33 did this as a "staff- and tech-led" business, and describes some positive consequences for its people, clients, and for the firm. Will they continue to offer remote working once offices re-open? Listen to the chat to find out.
Here's the podcast. Click the large arrow to play, or hover over the media player and click on the icon on the bottom right corner to download it.
You can also access it in Apple Podcasts, Stitcher, Google Podcasts, numerous other podcast apps or Spotify.
Timings:
0 – 2:20 introduction
2:20 Holly Jenkins, Jiraffe
29:43 Tim Elgar, Twinkl
36:29 Paul Fletcher, CC33
What Next: