A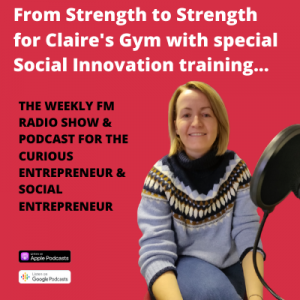 nother welcome return visit to the radio studio this morning.
Claire Moore is the founder of Believe and Achieve UK. Since her last appearance on the show Claire's been featured in the Small Business 100, invited to the House of Lords, and accepted onto the Cambridge Social Innovation Incubator through which she is accessing 12 months of business support, mentoring and training.
In this episode, Claire describes:
her own return to fitness after a commute left her tired, unmotivated and unhealthy – and how Claire moved from teacher and civil servant to personal trainer and gym owner.
the Believe and Achieve philosophy of building confidence, self-esteem and belief, through the combination of education with exercise to build positive mental and physical health.
dealing with imposter syndrome as an entrepreneur.
how Claire aims for her clients to gain understanding, knowledge, and new habits which mean they can embed fitness and health into their lives.
the value Claire gains from her mentor – who's like a personal trainer for her business.
creating new systems, processes, plans and procedures.
small but effective habits which have a powerful impact on fitness and wellbeing.
plans for the future
how leaders can find the space to keep fit and healthy
some of the most impactful books and sources of inspiration for Claire.
It's great to interview a return-visitor to the programme whose business is going from strength to strength (and I'm sorry for wearing that pun out).
Here's the podcast. Click the large arrow to play, or hover over the media player and click on the icon on the bottom right corner to download it.
You can also access it in Apple Podcasts, Stitcher, Google Podcasts, numerous other podcast apps or Spotify.
What Next:
Get new podcasts and practical advice in an accessible, entertaining format: join my free newsletter email list (if you're not already signed up). Just pop your details in below and look out for a confirmation email.