C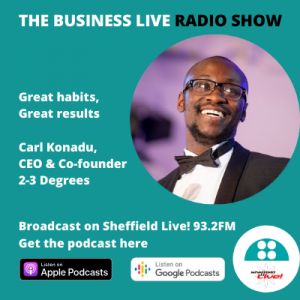 arl Konadu is the Co-founder and CEO of 2-3 Degrees, a personal development training company (and social enterprise) whose aim is to equip young people with practical skills for life beyond the classroom.
In Carl's second year of University, he and 2-3 Degrees co-founder Azzees Minott "began to realise that we did not have the soft skills needed to forge successful lives." But small positive actions "can be what helps you improve."
2-3 Degrees works with schools, colleges and Universities to support young people to make positive decisions through talks and workshops.
Carl told me about their work and impact in this episode of the Business Live radio show, broadcast on Sheffield Live 93.2FM on Friday 6 December and available as a podcast here.
He covers how 2-3 Degrees launched, where it works, how it supports young people, and the most important sources of support which got Carl and Azzees grounded in the "basics of business planning" – the Hatch Incubator programme, the School for Social Entrepreneurs, and the Young Foundation.
He takes my question about whether the personal development and motivation-building 'industry' just makes people feel a temporary high. Carl describes how 2-3 Degrees seeks to ensure its participants put the new skills (hard and soft) they learn into practice to effect change and development.
And he's open about 2-3 Degrees' impact, its biggest challenges faced so far, and has tips in terms of finding and working with a co-founder with complementary skills.
Here's the podcast. Click the large arrow to play, or hover over the media player and click on the icon on the bottom right corner to download it.
You can also access it in Apple Podcasts, Stitcher, Google Podcasts, numerous other podcast apps or Spotify.
Timings:
0-41:32 Carl Konadu interview.
41:32-end updates about Sheffield City Council's CEO recruitment; coalition of institutional investors urge European Commission to set "net zero" target; Peddlar Night Market 49 in Sheffield; illustrator takes over Winter Gardens popup shop with range to support The Better Together project and combat loneliness; Atkinsons (Sheffield's independent department store) casts two members of staff in own remake of "Love Actually"; Social Enterprise Exchange Programme Lunch Plus event at The Suit Works.
What Next:
Get new podcasts and practical advice in an accessible, entertaining format: join my free newsletter email list (if you're not already signed up). Just pop your details in below and look out for a confirmation email.