M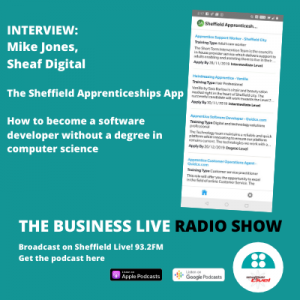 ike Jones runs software consultancy Sheaf Digital. His new Sheffield Apprenticeships app looks set to help young people identify good quality apprenticeships. And twenty years ago, Mike made a big career switch, from schoolteacher to software developer.
Mike tells me what Sheaf Digital does, why he launched the Sheffield Apprenticeships app as a "passion project" and how it works for users (and apprenticeship providers).
And he explains his career progression, from teacher, to employee in a large tech firm, to running his own software development business, Sheaf Digital.
This episode is packed with great advice about:
developing side projects,
building apps and getting them accepted in the Apple app and Google Play stores,
learning new skills,
user-focused design – and getting feedback,
identifying where you want to be in your career and a pathway to get there,
gaining appropriate, transferable skills and experience,
why you should write letters,
business management, development and networking advice for anyone who runs their own business or is self-employed,
how to become a software developer without a degree in computer science!
Here's the podcast. Click the large arrow to play, or hover over the media player and click on the icon on the bottom right corner to download it.
You can also access it in Apple Podcasts, Stitcher, Google Podcasts, numerous other podcast apps or Spotify.
Timings
0 – 1:15 next week's Social Enterprise Day and the SEUK Presents with Purpose Guide,
1:15 recap of last week's show,
2:34 Mike Jones, Sheaf Digital,
45:30 forthcoming events including the Sheffield Business Awards, a Social Investment Roundtable and The Social Enterprise Exchange Conference 2019.
49:00 Support the South Yorkshire Community Foundation (SYCF) flood appeal.
What Next:
Get new podcasts and practical advice in an accessible, entertaining format: join my free newsletter email list (if you're not already signed up). Just pop your details in below and look out for a confirmation email.