S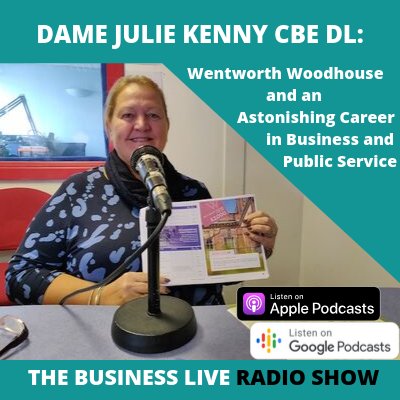 ome people said it just couldn't be done.
Wentworth Woodhouse, one of the UK's finest (and largest) Georgian stately homes, had fallen into such a state of disrepair many folk thought it would be impossible to restore.
But "nothing's impossible" says Julie Kenny. The house, originally built between 1725 and 1750 and once grander than Chatsworth is undergoing a remarkable restoration set to bring it back to its former glory.
It's going to be a catalyst for change for Rotherham and a cherished asset for everyone.
Dame Julie Kenny CBE DL, Chair of Wentworth Woodhouse Preservation Trust, is one of hundreds of unpaid volunteers whose determination is making the dream of saving one of the most impressive historic buildings in England a reality.
And Julie's personal story is as remarkable as that of Wentworth Woodhouse, as you'll hear in this episode of my radio show, first broadcast live on Sheffield Live 93.2FM. Here's the podcast.
Julie Kenny covers the work done so far to save Wentworth Woodhouse and her own fascinating career history involving business success and public service. It's a treat!
Here's the podcast. Click the large arrow to play, or hover over the media player and click on the icon on the bottom right corner to download it. The timings are below.
You can also access it in Apple Podcasts, Stitcher, Google Podcasts, numerous other podcast apps or Spotify.
Timings:
0:00 introduction, a tortuous metaphor about the watertightness of the law and an appeal…
3:36 Julie Kenny, the Dame of Wentworth Woodhouse, explains the state the building was in and how the Trust secured funding to buy the asset (which was really more of a liability) and to start the restoration work.
9:30 The house is a beautiful gem and hundreds of volunteers are getting involved to support repairs. A programme of capital works is already underway.
11:00 A masterplan has identified that over £100 million will need to be raised.
12:30 There are many fundraising balls in the air. Julie describes some of them.
14:00 The Wentworth Woodhouse Wishlist covers all sorts of things needed to support the house's restoration, from tiny to enormous. Individuals, organisations and businesses can help!
16:40 Julie has described rescuing the house as one of the hardest and most inspiring challenges in her life. And what a life. Julie tells us about leaving Sheffield at the age of 18 with £45 in her purse and vowing never to come back.
19:30 Julie qualified as a lawyer, headed up a local authority's civil litigation department – then love brought her back to Sheffield.
20:42 When Julie sold her house – aged 28 – to raise capital for a business idea, she never considered the business would fail. "Perhaps I was naive" she says. Why did she succeed?
22:45 Julie sold Pyronix in 2016; it was turning over around £25m and she'd also been working (as a volunteer) on Wentworth Woodhouse for a couple of years. "The stars aligned."
25:00 Public Service has been central to Julie's life for decades. "I can promise you, you get as much back, through learning you can use personally and in business, from giving your time as a volunteer."
26:30 Being a "woman in a man's world" as the first female chair of the British Security Industry Association – and some crucial tips and advice.
30:30 How to secure the support of politicians and get them on your side for community and voluntary projects.
34:00 Julie was one of the commissioners asked by the Government to run Rotherham Council when the Government placed it into intervention. The town had been her home for 30 years, her business was based there, and she never had any doubt about taking up the role.
38:00 "In lots of councils we fail young people…we need to keep our young people safe."
40:30 a recap of some of Julie's other business achievements and Julie introduces the track of music she chose for the radio.
44:00 there are numerous exciting events coming up at Wentworth Woodhouse, such as "As the World Tips," a dramatic, environmentally-themed aerial performance spectacular. Julie hopes this will create inspiration and ambition.
47:30 What else is on the Wentworth Woodhouse Wishlist and how can you help?
What Next:
Get new podcasts and practical advice in an accessible, entertaining format: join my free newsletter email list (if you're not already signed up). Just pop your details in below and look out for a confirmation email.