K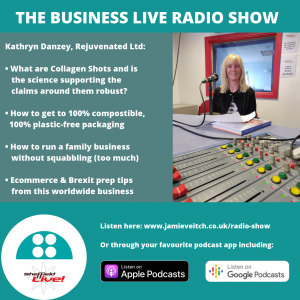 athryn Danzey has run Rejuvenated, a business selling shots of Collagen which the firm describes as "clinically formulated functional beauty drinks to naturally support firm, youthful skin," for 15 years.
Rejuvenated has customers all over the world. It makes its products in the UK, has embarked on a journey to ensure all packaging is compostable and plastic-free, and is a family business in which Kathryn's husband, son and one of her daughters works.
In this episode of my Business Live radio show (broadcast this morning on Sheffield Live FM radio and available as a podcast below) she covers:
Her career in the beauty, nutrition and health industry and the personal motivation which led her to launch Rejuvenated 15 years ago,
What the core product is, how it is designed to work, why people buy it, and the impact it has for them,
The science behind the product? Is it robust?
What about the industry as a whole, does it encourage unrealistic aspirations?
Health and wellbeing tips for vitality,
Rejuvenated's journey to ensure all packaging is compostable and plastic free (great advice here for any business whatever your market),
Tips for other folks running family businesses,
Kathryn's book, "The Youth Plan" and what it contains,
Is Brexit a concern to this business with customers worldwide?
Selling internationally online,
And more! Enjoy the episode.
Here's the podcast. Click the large arrow to play, or hover over the media player and click on the icon on the bottom right corner to download it. The timings are below.
You can also access it in Apple Podcasts, Stitcher, Google Podcasts, numerous other podcast apps or Spotify.
What next:
Enjoyed the show? Please leave a review or rating on Apple Podcasts or Stitcher. Subscribe for new podcasts too.
Rejuvenated's website and Kathryn's book, The Youth Plan.
Sheffield Live's website is here.
The Business Live radio show is broadcast live almost every Friday on Sheffield Live radio and available as a podcast in Apple Podcasts here.
To get new podcasts and practical advice in an accessible, entertaining format, join my free newsletter email list (if you're not already signed up). Just pop your details in below and look out for a confirmation email.