R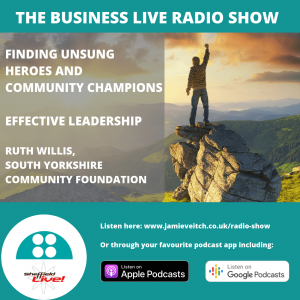 uth Willis is the chief executive of charity, South Yorkshire's Community Foundation (SYCF) and joined me in the radio studio for the latest episode of Business Live.
SYCF is working with BBC Radio Sheffield to look for Sheffield's unsung heroes.
Their new Community Champions Awards celebrate the lives of "outstanding people or teams who go above and beyond to care about their community, or who consistently give up their time to help others – and they are now seeking nominations."
In this episode Ruth also talks about SYCF's priorities and work (it has operated for 33 years across South Yorkshire). And she gives her thoughts on effective leadership.
Here's the podcast. Click the large arrow to play, or hover over the media player and click on the icon on the bottom right corner to download it. The timings are below.
You can also access it in iTunes / Apple Podcasts, Stitcher or Spotify.
Timings:
0 – 2:00 introduction and updates,
2:00 Who is Ruth Willis and what does SYCF do?
3:20 What are the Community Champions Awards? What makes them different from other awards?
7:34 The business champion award in more detail.
11:05 How to nominate someone and the deadlines.
12:20 When winners will be shortlisted and announced: how the process works.
14:54 What's in it for the winners?
17:05 And what does South Yorkshire Community Foundation do? How its 80 community grant funds work.
18:29 Identifying the biggest priorities to tackle deprivation.
22:45 Which organisations are sponsoring the Awards?
23:50 Making nominations.
26:55 Ruth has been Chief Executive of SYCF for 6 years. What advice does she have about leadership?
28:00 An inspirational director allowed Ruth to take "risks within boundaries" early in her career.
29:20 Having a confidential sounding board and relationships built on mutual trust and integrity.
31:40 Advice from the ex-drummer of one of Ruth's favourite bands.
33:30 The South Yorkshire 100 initiative: businesses working with SYCF and giving back to communities, delivering social impact.
36:45 Put yourself forward to be a guest on Business Live.
37:42 New Office for National Statistics figures show the number of freelancers has increased dramatically. Other research demonstrates the value of highly-skilled freelancers to the UK's economy – "one of the UK's most important and most productive economic assets."
40:40 An exciting weekend of events in Sheffield: The Folk Forest, The Sharrow Festival, Cliffhanger and more.
45:00 Wrapping up.
What next:
Enjoyed the show? Please leave a review or rating on iTunes / Apple Podcasts or Stitcher. Subscribe for new podcasts too.
Sheffield Live's website is here.
The Business Live radio show is broadcast live every Friday on Sheffield Live radio and available as a podcast in iTunes here.
To get new podcasts and practical advice in an accessible, entertaining format, join my free newsletter email list (if you're not already signed up). Just pop your details in below and look out for a confirmation email.