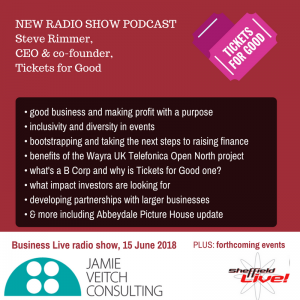 Steve Rimmer is a serial social entrepreneur and co-founder and CEO of Tickets for Good.
He joined me on my Business Live FM radio programme this morning for a thoroughly interesting discussion. You can listen to the podcast below.
Steve covers:
launching the Tickets for Good platform, now used by event organisers all over Sheffield and further afield in the UK and internationally
what the platform does – how it makes events more charitable and more inclusive
other work on inclusivity and diversity in events
The fantastic Festival of Debate, and the Migration Matters Festival (and why this is one of Steve's favourite annual events)
donating 10% of revenues (not profits) to causes
bootstrapping and taking the next steps to raising finance
benefits of the Wayra UK Telefonica Open North project
what a B Corp is, and why Tickets for Good is an accredited B Corp
the Profit with Purpose model of business
access to finance, securing social investment, what impact investors are looking for, and developing partnerships with larger businesses and corporates
social impact measurement
(and, wearing a different hat, revitalising the wonderful Abbeydale Picture House: progress and future plans)
Podcast:
Timings:
0 – 7:19 introduction and updates including 40 new jobs as online printing company instantprint set to invest £3.25m in new print technology; Supreme Court ruling says Pimlico plumber is worker; forthcoming events for fun and to develop your business; participate in survey for future of Sheffield city centre.
7:19 – 44:15 Steve Rimmer
44:15 – end wrapping up
What next?
Check out the Tickets for Good platform and The Abbeydale Picture House.
More about my Business Live radio show.
If you'd like details of new podcasts and enjoy reading useful, practical advice – delivered in an accessible, entertaining format, then you're welcome to join my free newsletter email list (if you're not already signed up). Just pop your details in below and look out for a confirmation email to click to confirm you want to join the list.