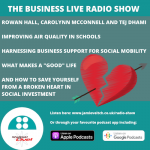 A new project to improve air quality in a Sheffield school AND provide a "proof-of-concept" to other schools (policymakers too).
Rowan and CarolynN cover greening-up the playground at Hunters Bar Infants' School, a research partnership with The University of Sheffield – and how businesses are helping to make the project possible.
And Tej, MD of social impact investment consultancy The Change Coefficient, has crucial advice about social investment and what should you think about if you run a mission-driven organisation and are seeking an investor.