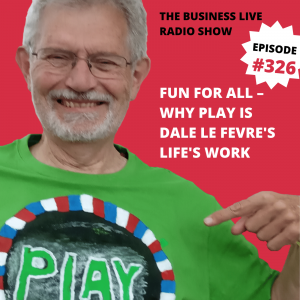 Playing has been Dale Le Fevre's life's work. One of the world's best-known exponents of the New Games movement, Dale has given workshops, trained and played in 35 countries since 1975.
New Games are about fun for anyone who wants to take part. Research demonstrates a wide range of benefits for participants. Dale has also worked with businesses worldwide, helping them use new games to facilitate cooperation, build confidence, and break the ice at conferences.
We all need play more than ever before, says Dale, "it's like a breath of fresh air, a chance to relax, recharge, take a break from the news."
In this episode Dale tells me more about New Games and why he dedicated his life's work to play. He describes what he's done since times have forced us to change how we interact, and a new product which is a compilation of socially-distanced New Games, many can be played over Zoom. Sounds great – more details here.
Also in today's show: a record 772,002 new businesses launched last year; changes to the prompt payment code (good news for businesses of under 50 people which sell to corporates); business insurance ruling; rethinking town centres and funding for freelancers in the creative and arts sector who live or work in Sheffield.
Timings:
0 – 3:00 Introduction
3:00 Interview with Dale Le Fevre
33:04 A record 772,002 new businesses launched last year according to the Centre for Entrepreneurs. Their analysis is here.
35:27 An overhaul to the Prompt Payment Code.
38:08 High street shop closures and reimagining town and city centres – new report from the Social Market Foundation.
39:26 Small businesses to get business interruption insurance payouts after court ruling.
40:47 Tribepad Ventures, a new incubator and accelerator.
41:46 Big Issue Foundation launches Clever Shopping Companion.
42:43 Funding for freelancers in Sheffield
44:20 Wrapping up