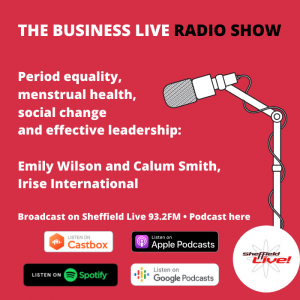 How can we break the vicious cycle of period poverty and the shaming and stigma which so many people experience around menstruation? What's the best way to advocate for social change and make a real impact? How do you measure what matters? And what makes an effective leader?
In this episode of Business Live we're joined by Emily Wilson, Co-founder and CEO of Irise International, and Calum Smith, the charity's Head of Operations.
Irise is a global leader in menstrual health programming, research, advocacy and policy development, transforming peoples' lives through period equality. It works in the UK and East Africa and this wide ranging interview covers Irise's mission to create a world where people can realise their potential unlimited by their periods, through its research, partnerships, advocacy and programmes.
Simple policy changes can have a big and powerful impact, as Emily describes, though there's much work to do. She covers co-founding Irise in east Africa and how learning of the UK's "blind-spot" in terms of menstrual health led to Irise working here too (and Emily is now working with the UK Government on their Period Poverty Task Force).
The show also covers leadership, with some powerful insights about what makes an effective leader; plus exclusion and inclusivity, whether through language* or though digital communication tools.
Emily and Calum also discuss Irise's work setting up and catalysing community owned businesses and micro businesses, and how this has not only had a powerful economic impact, it has changed gender dynamics too. Plus there's essential advice for anyone wanting to advocate for social change.
Here's the podcast. Click the large arrow to play, or hover over the media player and click on the icon on the bottom right corner to download it.
You can also access it in Apple Podcasts, Stitcher, Google Podcasts, numerous other podcast apps or Spotify.
What Next:
One in 10 girls between the ages of 14 and 21 in the UK have been unable to afford sanitary products, while 49% have missed an entire day of school because of their period, according to research by Plan International. About half of the girls Irise works with in East Africa use improvised menstrual products. Many girls miss school or drop out altogether, making them more vulnerable to violence. A recent survey found 1 in 10 girls in east Africa had had transactional sex in return for menstrual products. Across continents, girls experience negative consequences as a result of the shame they are made to feel about their periods.
*Irise is mindful that people who experience periods are diverse and the charity aims to be inclusive of everybody who experiences menstruation and of women who do not have periods and endure negative experiences as a result. Within the interview, when Emily and Calum use the phrase "women and girls" they are talking about projects and learning focused on this group. Irise continually reviews its use of language and strives to be as inclusive and respectful as possible in how it talks about periods.
Visit Irise's website here.
Become a Period Buddy.
Sheffield Live's website is here.
Enjoyed the show? Please leave a review or rating on Apple Podcasts or Stitcher. Subscribe for new podcasts too.
The Business Live radio show is broadcast live almost every Friday on Sheffield Live radio and available as a podcast in Apple Podcasts here.