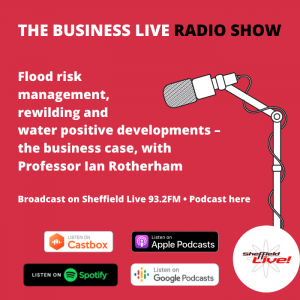 Professor Ian Rotherham of Sheffield Hallam University is an expert on a range of environmental issues, including urban wildlife, extreme weather, flooding and climate change.
Recent floods had an enormous human and economic impact. I met Ian at a recent "Flood Risk Management" conference, which examined integrated and natural flood management approaches and caught up with him afterwards for this short but fascinating chat, broadcast on Sheffield Live's Business Live radio show on Friday 13 March.
Ian covers how his own interest in flooding and rewilding came about and how the "rules of engagement" with nature have changed.
He describes how flooding and droughts are two sides of the same coin and our actions have consequences. He offers some steps which businesses can take to support flood resilience and makes the business case for natural flood management as part of a sensible approach to flood risk management.
Ian has also long been involved in regional economic development and is an advocate for using environmental measures to trigger economic growth. All new developments must and should be "water positive" he says – and explains why.
Here's the podcast. Click the large arrow to play, or hover over the media player and click on the icon on the bottom right corner to download it.
You can also access it in Apple Podcasts, Stitcher, Google Podcasts, numerous other podcast apps or Spotify.
Timings:
0 – 3:00 This week's Budget included measures to, in the Chancellor's words, "bridge instability" caused by the Coronavirus epidemic. A quick summary.
3:00 Other Budget measures relevant to businesses and social enterprises.
5:30 Professor Ian Rotherham.
16:18 The Budget: other measures announced this week.
18:50 The Budget: responses from Social Enterprise UK and the Federation for Small Businesses.
What Next: