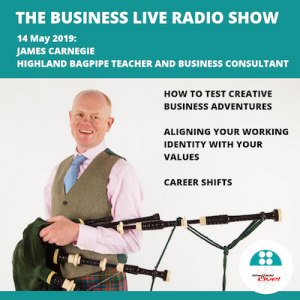 James Carnegie is a highland bagpipe teacher, a business consultant and a thoughtful and fascinating guest in this latest radio show podcast.
Many people in the corporate world yearn to run their own business or pursue a more stimulating and creative career. But the security of being an employee, fears of "failure" and concerns around status and working identity can be enormous barriers.
James, now 50, made an intentional career shift a year ago. It's gone "far better than he expected."
With the "job for life" a diminishing concept, James says we can test creative and micro-enterprise ideas. He tells me how and why he became a highland bagpipe teacher.
And he makes thoughtful observations about building a portfolio career which is creatively fulfilling and makes the financial contribution you need; experimenting with new projects; and whether the work you do defines your identify.
It's a fascinating listen for the curious business leader, founder, social entrepreneur – and anyone considering making a career shift.
Here's the podcast, which you can also access in iTunes / Apple Podcasts, Stitcher or Spotify. Full timings are below.
Timings:
0 – 4:39 introduction and updates, including £2m new Sheffield factory by employee-owned Gripple; outdoor book publisher Vertebrate secures transformative investment; launch of impact investing institute; getting in touch.
4:39 James Carnegie lives in Cambridge with his wife and three young children. How he came to be teaching the bagpipes.
8:50 There's increasing global interest in the bagpipes. James describes where and why.
11:10 James previously had a corporate career – what was he doing?
12:10 Many people are ambivalent about working in large organisations. The security can be good, but it can feel like being on a hamster wheel. James always wanted to fulfill some creative ambitions.
13:25 The opportunity to make a partial shift from the corporate world came for James last year.
15:20 James' biggest fears about making the transition.
17:10 Seeing this as an experiment was especially useful for James – as were the books Working Identity by Herminia Ibarra and two books by Lynda Gratton.
21:02 Taking a step back to look at experiments within the context of your entire life.
22:00 What are the most fulfilling parts of James' work?
23:10 How students start learning to play the bagpipes (and a live performance).
25:45 Encouraging students to practice and what works for James.
29:00 Skills DO transfer between diverse and different parts of the working world.
30:30 Do bagpipe-learners take exams, play in ensembles, play for fun?
32:25 James' bagpipe learning segments, and some frank observations on what's realistic.
36:30 The business consultancy and mentoring work James is enjoying most (and his flexible red lines).
43:00 James has always liked doing and testing new things and seeing what comes from them (but it's not always as easy as it sounds).
45:15 Advice for anyone yearning to move from a corporate role and a lesson learned from a jump James made two decades ago.
47:50 Is James optimistic about the future of music education?
49:15 Can adults return to playing musical instruments?
50:20 Getting in touch with James for bagpipe lessons – or business consultancy, mentoring and career-shifting advice.
52:09 Wrapping up this week's programme.
What next:
Enjoyed the show? Please leave a review or rating on iTunes / Apple Podcasts or Stitcher. Subscribe for new podcasts too.
His book recommendations again: Working Identity by Herminia Ibarra and The Shift by Lynda Gratton.
Sheffield Live's website is here.
The Business Live radio show is broadcast live every Friday on Sheffield Live radio and available as a podcast in iTunes here.
To get new podcasts and practical advice in an accessible, entertaining format, join my free newsletter email list (if you're not already signed up). Just pop your details in below and look out for a confirmation email.