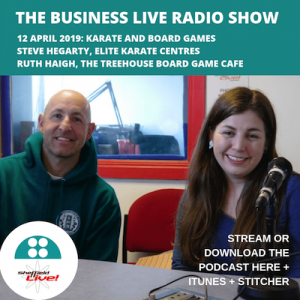 Combine board games with karate and what do you get? A solution to silly arguments about Monopoly? Nope.
It's a brand new radio show featuring Ruth Haigh, co-owner of The Treehouse Board Game Café and Steve Hegarty of Elite Karate Centres.
In this episode you'll learn:
why and how Ruth and Steve each made their leaps from being employed to running their own businesses,
how Ruth market-tested Treehouse before leaving her job,
the benefits of Karate to children, teenagers, adults – and business leaders,
one critical success factor Ruth says made Treehouse work as a business – and her most useful sources of advice as a startup,
whether Steve has ever "waxed on, waxed off" and a tale of painting a Sensei's fence in Okinawa,
an exceptionally important piece of advice if you're looking for business premises,
turning a passion into a business, whether that's martial arts or board games.
The Treehouse Board Game café opened in Sheffield 18 months ago and is a thriving hub where guests can "have fun sitting around a table together." Choose from a menu of 500 games to play while enjoying delicious food and drink. Ruth left a career in data analysis for the civil service to launch the business with husband Andy. Was their journey filled with snakes or ladders? Listen to the podcast to find out.
There's been an explosion of interest in board games in the UK and worldwide. A new generation of exciting, immersive games offers massive variety. Some involve co-operation, others are competitive, some are based on hidden role-play. Some are over in minutes; others take hours to enjoy. Ruth discusses the reasons behind the resurgence in interest and particular games which are perennial favourites – plus future plans for The Treehouse.
Elite Karate Centres (EKC) was founded in 2000 by professional karate instructor Steve Hegarty. EKC teaches the Shukokai style of Karate to over 300 students from the age of 6, with no age limit. It has classes in locations around Sheffield and Rotherham.
Steve originally started karate at the age of 6, returned to it aged 13 – inspired by a film which listeners of a certain age will remember well – and has been studying karate for over 30 years. He has been a member of the Shukokai Kumite Team, with successes at British and National Level. He covers how EKC has grown, especially over the last five years; his own continual development; his interest in other martial arts and how to choose a martial arts instructor, club or dojo for you or your family.
Enjoy this episode! Here's the podcast to download or stream (also find it in iTunes here). The timings and show notes are below.
Timings:
0 – 2:48 welcome and introductions,
2:48 – 25:57 Steve Hegarty,
25:57- 52:00 Ruth Haigh,
52:00 – 53:31 wrapping up.
What next:
Check out The Treehouse Board Game Café and Elite Karate Centres online. Sheffield Live's website is here.
The Business Live radio show is broadcast live every Friday on Sheffield Live radio and available as a podcast in iTunes here.
To get new podcasts and practical advice in an accessible, entertaining format, join my free newsletter email list (if you're not already signed up). Just pop your details in below and look out for a confirmation email.