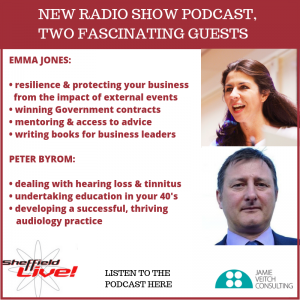 Here's your latest dose of inspiration and practical advice from fascinating radio show guests.
This week's Business Live programme covers winning government contracts, writing a business book, undertaking education as an adult and more. The podcast is below – guests are Emma Jones and Peter Byrom.
Emma Jones founded Enterprise Nation, a network helping people to start and grow small businesses, and is the SME Crown Representative, working with Government to hit a target of spending one pound in every three with small firms.
Peter Byrom looks after people's hearing. He runs Peter Byrom Audiology and has extensive experience fitting hearing aids, within the NHS and in private practice; he's helped numerous business people who need to interact with clients and are worried about their hearing.
Emma talked about:
Enterprise Nation's mission and history and how it helps members,
What her role as SME Crown Representative means in practice – how is the Government going to achieve the objective of spending more with small businesses?
How business and social enterprises can win government contracts (and contracts with large suppliers to Government),
The importance and value of getting involved with "early market engagement" exercises,
Advice for business leaders who want to write a book (Emma has published 7),
Protecting your business against factors you can't control but which will affect you,
Who's inspired Emma, why and how?
Peter covered:
Whether reluctance to wear a hearing aid holds people back in business,
Leaving school with one O-Level then working on a building site led to his own hearing loss – and an enduring interest in audiology,
Studying for undergraduate and postgraduate degrees later in life,
Managing tinnitus and hearing loss, and a crucial discovery,
The transformative impact of looking after your and your employees' hearing,
Developing his audiology practice, listing your business on directories and the power of positive reviews.
Here's the podcast to download or stream (or find it in iTunes and Stitcher):
Timings:
0 – 2:15 introduction and recap of last week's show,
2:15 – 28:13 Emma Jones,
28:13 – 48:00 Peter Byrom,
48:00 – end (50:40) forthcoming events and wrapping up.
What next?