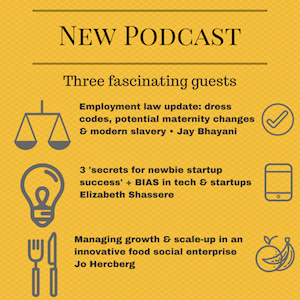 From sexist dress codes to discrimination in tech, modern slavery to an innovative "pay as you feel" social enterprise food business, and the three "secrets of newbie success in tech" – it's all in this week's radio show podcast.
Jo Hercberg, Elizabeth Shassere and Jay Bhayani joined me in the radio studio on Friday for a packed and insightful programme. You can listen to the podcast below.
Jay Bhayani runs Bhayani HR & Employment Law and ran through some topical areas of employment law: sexist and discriminatory dress codes in light of a new report published this week; potential changes to maternity legislation, whereby pregnant women and new mothers could be entitled to additional protection from redundancy if new government proposals go ahead; and a recent conviction under the modern slavery act.
You need to be aware of updates to employment legislation if you run a business or social enterprise – make sure you listen to this!
Elizabeth Shassere (Startup Elizabeth on twitter) returned to the programme (last year she discussed mentoring entrepreneurs in Gaza). Having founded Textocracy and won a startup competition Elizabeth has written extensively on Medium about her experiences as "the founder of a tech startup as a non-techie, over-40 female with no entrepreneurial experience."
In her articles, Elizabeth has dissected endemic unconscious gender biases, and deliberate, overt gender discrimination, prevalent within parts of the tech startup scenes. She talks about her experiences in the interview. This conversation came the week in which a study published in the journal Science found that girls start to see themselves as less innately talented than boys do from the age of just six years old.
Jo Hercberg runs the Real Junk Food Project Sheffield, which promotes the "value of food and the value of people." The project reduces unnecessary food waste and improves the availability of food for everyone, through a pay-as-you-feel surplus food café, a pay-as-you-feel grocery store, catering for events, an education programme with schools, and a monthly dining-and-beer pop-up partnership with a local brewery.
Jo discusses the Real Junk Food Project's achievements and how it has scaled up – through managed growth – increasing its size, activities and impact.
Do listen to the podcast: this is a brilliant episode because of all three guests' insights.
Podcast (music played in the show removed):
Timings:
0 – 3:28 introductions
3:28 – 21:36 Jay Bhayani
21:36 – 42:13 Elizabeth Shassere
42:13 –  53:45 Jo Hercberg
More about the Business Live radio show. Enjoyed this episode? Share it using the buttons below – or add a comment.