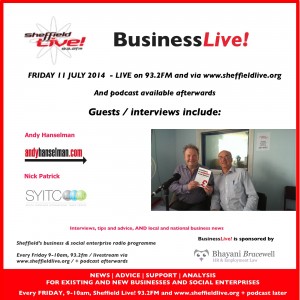 Friday's Business Live radio show on Sheffield Live featured two studio guests: Nick Patrick of the South Yorkshire International Trade Centre, and consultant and author Andy Hanselman. Podcast below – here's a summary of what we covered.
Building on the success of the recent Overseas Business Network event in Sheffield, SYITC are running another – free to attend – meeting this Friday 18 July which Nick discussed in his interview.
Representatives from Chile, Columbia, Mexico, Philippines, Romania, Slovakia and Singapore will visit Sheffield to discuss exports from the city region at the 'Meet and Build' event on July 18. Nick explained what the event would entail and how businesses could get involved.
Andy Hanselman is the author of "Revolutionise the Profitability of your Business" and an expert in improving business competitiveness. He talked through how businesses and social enterprises can increase profitability (but not at any cost!), offering some stimulating tips and advice about income and profit generation, generating useful and meaningful customer feedback, encouraging your suppliers to help to promote your business, and other ideas.
The show also touched on the legacy of the Tour de France for Yorkshire businesses; and the business news section covered the Church of England's decision to sell its indirect stake in payday lender Wonga; the Sheffield City Region Local Enterprise Partnership's growth deal; an equity investment by Direct Line Insurance into fast-growing, Sheffield-based telematics provider, The Floow; and forthcoming events including Sheffield Live! television's preview screening and my marketing masterclass for social enterprises.
You can listen to the podcast of the complete show (excluding the three tracks of music) here – it's 48 minutes in total. The introduction and business news runs from 0 – 7 mins 23 seconds. Nick Patrick interview is 7m 23 – 22m 25; and Andy Hanselman interview is 2m 25 – 47m 48 seconds.
What next?